News & Events
PARTICIPATION OF POLYPHONICA VOICES TO THE UKRANIAN FESTIVAL
Ukranian Festival "The Children of the World Dance for Peace" , with the participation of international dancers and singers.
Friday, 3 June 2016 - 8:00pm
Location:
Kifisia Town Hall, Dionysou and Myrsinis street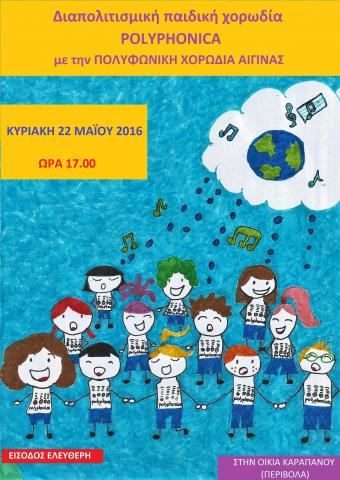 TRIP TO AEGINA - CONCERT
A two-day excursion to Aegina with our POLYPHONICA VOICES team. Musical workshops, educational activities, games and concert, together with the POLYPHONIC CHOIR OF AEGINA.
Sunday, 22 May 2016 - 5:00pm
Location:
Karapanou House, Aegina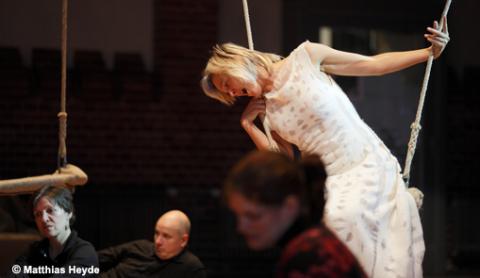 "HUMAN REQUIEM" at the MEGARON ATHENS CONCERT HALL, with the participation of POLYPHONICA'S younger members
Berlin Radio Choir is presenting Brahms's "A German Requiem" in a new light: under the title "Human Requiem", Jochen Sandig and his team are developing a "physicalization" of the work, intergrating text, music, bodies and space. The choris will be "staged", with singers and audience set in motion, eliminating the separation of concert platform and auditorium- indeed abolishing the traditional concert experience. 26 and 27 April 2016.
Tuesday, 26 April 2016 -

9:00pm

to

10:15pm
Location:
ATHENS MEGARON CONCERT HALL (Vasilissis Sofias ans Kokkali), Alexandra Trianti Hall
POLYPHONICA DRUMS TEAM PERFORMING FOR AN EASTER BAZAAR
The Friends of Monte and METApolis are supporting the hospital and the school of the Ugandan village Monte. The young members of the POLYPHONICA DRUMS TEAM with their teacher Giorgos Fasolis are taking part in this event, adding their enthusiasm with their rhythmic songs. The proceeds of the bazaar will be offered to this cause.
Saturday, 16 April 2016 - 8:00pm
Location:
METApolis, Aiolou 48-50 street, Athens
POLYPHONICA VOICES IN A LATE EVENING EVENT AT THE HILL SCHOOL
Our Choir will sing some of its favourite songs in an afternoon event, following Service of the Akathist Hymn, which will take place at the school's church.
Friday, 15 April 2016 - 7:00pm
Location:
The Hill School, Thoukididou 9 street, Plaka
Pages